Guangzhou, China, Dec. 31, 2021 - In the UN Climate Change Conference(COP26) held in Glasgow, UK in Nov., the Carbon Neutrality goal was proposed, ensuring that the world temperature maintains an increase within 1.5℃ in the mid-21st century. Countries need to accelerate the phase-out of coal, curb deforestation, and accelerate the transition to a greener economy. Under the background of it, PHNIX, as a new energy source company, actively responds to the policy requirements and has launched various R290 products to the market, helping to reduce carbon emissions to the environment and curb global warming. With a GWP value of 3, R290 heat pump is obviously competitive, making it become more and more popular in the European market.
Up to now, PHNIX has launched new R290 eco-friendly heat pump products in three different applications.
R290 Air-to-water Heat Pump - GreenTherm Series for house heating/cooling +DHW
-Super high efficiency A+++
-Full DC inverter technology
-ASA material & anti-corrosion
All in One Hot Water Heat Pump - airExpert R290 for domestic hot water
-Detachable Top Cover
-Optimal COP of up to 3.0
-Micro-Channel Technology
R290 HeatMaster Series for commercial application
-Inverter Technology
-Hot water outlet up to 70℃
R290 is a high purity propane(C3H8). The special feature is that it's an excellent environmentally friendly refrigerant. R290 has a zero ODP value, which indicates that there is no negative impact on the ozone, and its GWP value is extremely low, which means it will have a minimal impact on the global-warming effect. Moreover, compared with traditional refrigerant products, R290 is more economical and highly efficient. Therefore, R290 refrigerant is recognized as a refrigerant with the most development potential in the industry. However, R290 gas is flammable and explosive, which will burn and explode when it encounters a heat source or an open flame under certain conditions.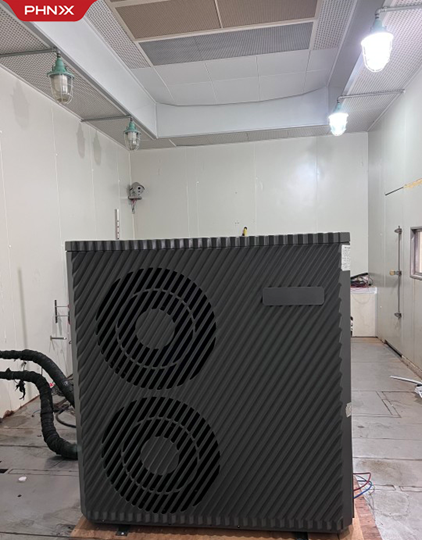 Based on the flammability characteristics of R290 gas, PHNIX built up a special anti-explosion lab to ensure safer and higher-quality R290 heat pumps. The lab is specially designed with multiple complicated devices, including explosion-proof fans, circuits and other specific anti-explosion equipment, ventilation device, R290 concentration detection probes and automatic alarm systems. In addition, preventing static electricity is one of the important measures to ensure safety. Static electricity removal devices are installed and anti-static rubber is laid in the laboratory and production lines, where employees need to eliminate static electricity before they enter. In particular, experimenters should wear anti-static clothing and shoes.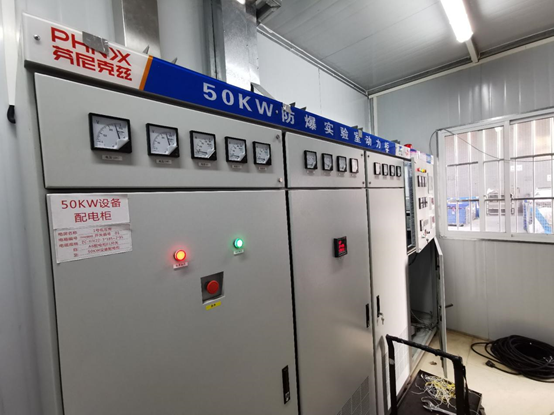 PHNIX building up an anti-explosion R290 lab is of far-reaching significance, which can not only give the R&D team a strong support to develop R290 heat pump, but also provide a place to test the safety performance and energy efficiency of it. Moreover, it can also simulate the application of R290 heat pump in different regions in the lab, so that it can adapt to the environment of different markets, laying a firm foundation for the safe and reliable launch of R290 product to the market.

As the leading heat pump manufacturer in China, PHNIX is an international enterprise specializing in the R&D and production of heat pumps and energy-saving solutions. Almost 50% of PHNIX products are exported to Europe, North America, and other overseas markets. To learn more about PHNIX and its products, please visit www.phnix-e.com.