Guangzhou, China, August. 22nd - Coal, oil and natural gas have driven the global economy for centuries, also becoming the main source of carbon emissions. From heating our homes to filling up our cars, burning fossil fuels releases greenhouse gases that increase global temperatures. Countries around the world have gradually begun to pay attention to the importance of balancing emissions and the reduction of greenhouse gases globally. In order to reduce greenhouse gas emissions from the source and limit further global warming, many countries take a phased and targeted approach to ensure a gradual transition to Net Zero. Ultimately, Net Zero will mean gradually, but completely, moving away from burning fossil fuels for heating.
The UK, as an active player in this global transition, introduced a policy called Heat and Building Strategy in October 2021 to encourage property owners to upgrade heating systems for houses and commercial buildings by installing low carbon heating systems like heat pumps. Heat pumps and Heat networks are proven scalable options for decarbonizing heat and will play substantial roles in any Net Zero Scenario. The UK government anticipates at least 600,000 heat pumps to be installed in new-build domestic properties annually by 2028.
"Heat pumps will be a key technology for new homes and buildings, which can achieve low-carbon heating and high levels of energy efficiency. As mentioned in the policy, the heat pump manufacture and supply in the UK market will grow to over 300,000 units a year by 2028. In other words, the heat pumps demand in the UK market will see a demand surge in the near future." Says Troy Wang, sales director in charge of PHNIX Commercial HVAC Sales division. "PHNIX has been well recognized in China as a mature commercial heat pump manufacturer. To meet this need and grasp the market chance, we has developed multiple commercial heat pumps that are especially suitable for houses and commercial buildings. Moreover, our commercial heat pumps have already obtained various certifications, which can facilitate our cooperative partners to easily introduce the heat pumps to the local market."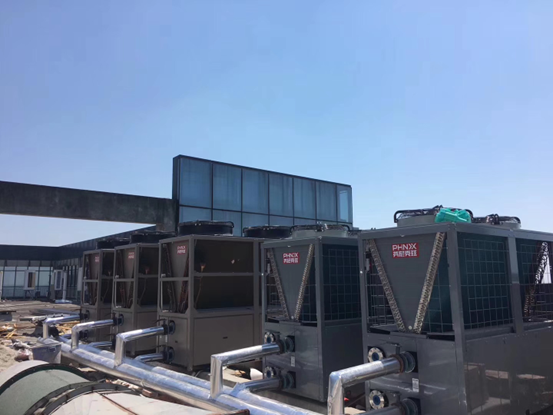 Below are three star commercial & industrial heat pump products that PHNIX provides:
*HeatMaster Series
5~140kW R290 high temp. heat pump which can replace domestic and commercial gas boiler.
Perfectly combining R290 refrigerant and inverter heating technology, HeatMaster Series is the newest commercial hot water heat pump, which can ensure optimal performance from -25℃ to 43℃. Different from traditional installations, it can even connect to solar water heating systems, various gas boiler water heating systems and electric water heating systems.
*HeatMax Series
A water source heat pump water heater for industrial application.
With the outlet water temperature up to 80℃, HeatMax Series's high heat transfer efficiency enables it to have high energy saving performance.
*PolarisPro Series
A commercial heating solution that can achieve heating, cooling and domestic hot water heating simultaneously.
Equipped with multiple technologies to improve, PolarisPro Series can deal with extreme temperature challenges, which ensures stable operation from -36℃ to 55℃.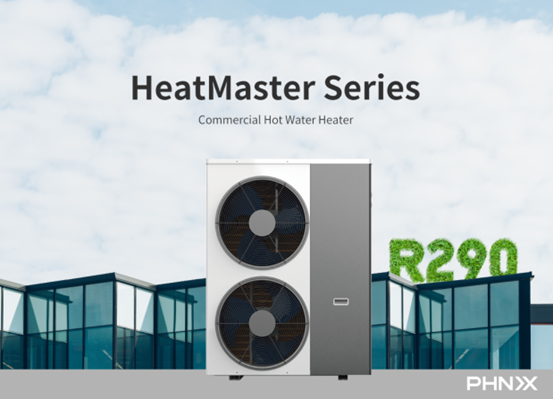 "PHNIX commercial water heating solutions have been successfully applied in many projects in China and received favorable comments. With mature application experience, I believe that PHNIX can surely provide high-quality heat pumps for British users and commercial project owners, helping implement the UK policy and upgrade the heating system." Says Troy Wang.