Guangzhou, China, Dec. 18, 2020- Recently, as the value of carbon emissions has almost reach the peak limit in many countries, China-EU Leaders are urgently discussing over the serious topic of carbon neutrality. In the face of growing demands for action, many countries and companies are making promises and setting targets to reach "net zero" emissions or "carbon neutrality". In the discussion, heat Pump, a green energy solution, was commonly recognized as an important device and mean to pursue carbon neutrality.
Especially, CO2 heat pump with zero carbon emissions has been receiving rising popularity and become more sought-after than ever in the market. Also, due to overwhelmingly dependent on fossil energy on heating, cooling and hot water in commercial and industrial occasions which is high in carbon emissions, their demand for CO2 Heat Pump is even more pressing. Most of this demand comes from project owners, such as hospital, luxury hotel, sport center, sterilizing in food factory, coating and painting etc. and their demand for energy in heating and hot water are huge.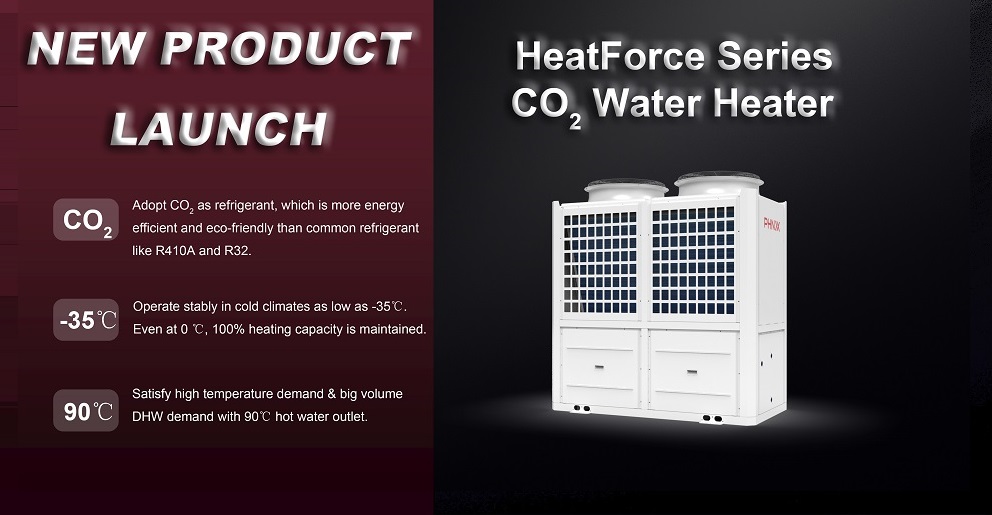 PHNIX, an expert provider of heat pump, is always striving for a green earth and unremittingly throw itself to the R&D of heat pump. To satisfy the urgent demand of the market, PHNIX takes the lead to launch to the market a powerful heat pump water heating system for commercial and industrial application with the use of new eco-friendly natural CO2 refrigerant.
"Compared with conventional heat pump water heater with refrigerant like R410a,R134a etc, PHNIX new HeatForce series uses CO2 refrigerant which has "net zero" emissions. Soon after the product is launched, we has received constant inquiries from our clients. The market responds very actively toward our new CO2 heat pump." according to Mr. Troy Wang, Director of PHNIX Commercial and industrial Water Heating Division.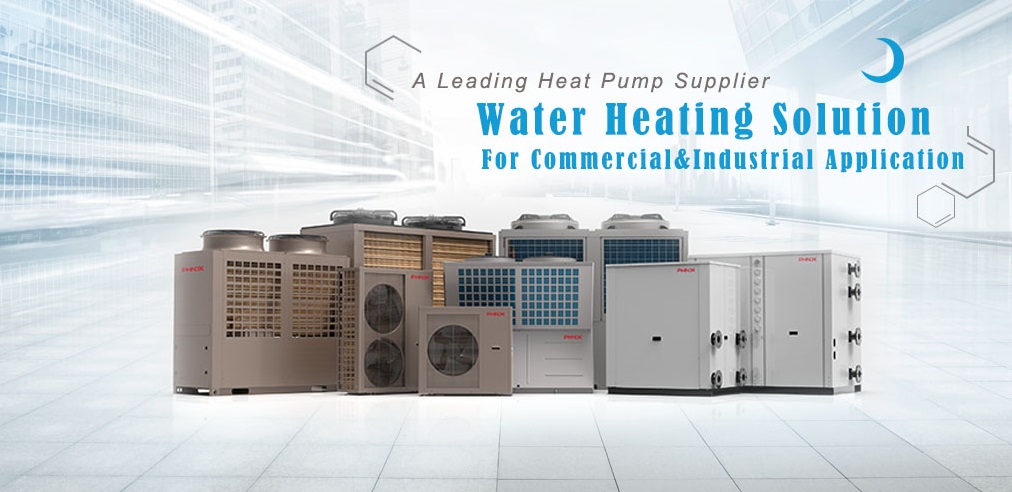 About PHNIX Co2 Heat Pump
Maintain High COP 4.5
Combing efficiency with PHNIX proven technologies, the unit is capable of maintaining high COP up to 4.5.
Excellent Heating Under Extreme Cold Climate
With the use of CO2 refrigerant, the unit is capable of heating up water to 90°C high temperature even with exterior conditions at -20°C according to PHNIX certified laboratory.
Max. Water Temperature Up to 90°C
The feature of producing 90°C high temperature hot water allows it to meet the requirement of peak consumption and ensure huge quantity of hot water supply, while using less energy overall.
Fast Hot Water Supply at -35°C
The unit is powerful enough to operate stably even under extreme cold climate of -35°C. Furthermore, not just is the unit not affected by the super low temperature, but even provide hot water to users instantly without waiting.