Guangzhou, China, Mar. 31, 2021 – Last week, ISH Digital 2021 comes to a successful conclusion. Throughout the event, PHNIX organizes two online roundtables and three web sessions, meeting with enthusiastic responses from the online audience.
During the Roundtable Meetings, PHNIX overseas director Peter Wang shared his insights on the product features and market trends of the R290 heat pump in a comprehensive and in-depth manner. Many global market players are active in putting questions, making the roundtable full of ideas and inspiration.
In the Web Sessions, PHNIX launched three newly developed heat pump products. GreenTherm Series, the A+++ high-efficient R290 Air to Water Heat Pump of PHNIX House Heating & Cooling Heat Pump Line, was dismantled on-site, proves that the quality and the design details are always the constant insistence of PHNIX. For the Domestic Heat Pump Water Heater Line, the Inverter R290 airExpert Series all-in-one water heater debuted and earned many positive feedbacks from the audience with their exquisite appearance and trustworthy quality. Moreover, an R290 Tankless Domestic Hot Water Heat Pump was introduced on the show. This product will be available for testing in May 2021. As for the PHNIX Commercial Heat Pump Water Heater Line, PHNIX comprehensively introduces their PolarisPro Series and the HeatMax Series, both of which are professional heat pump products for commercial hot water that have been fully tested in the European market.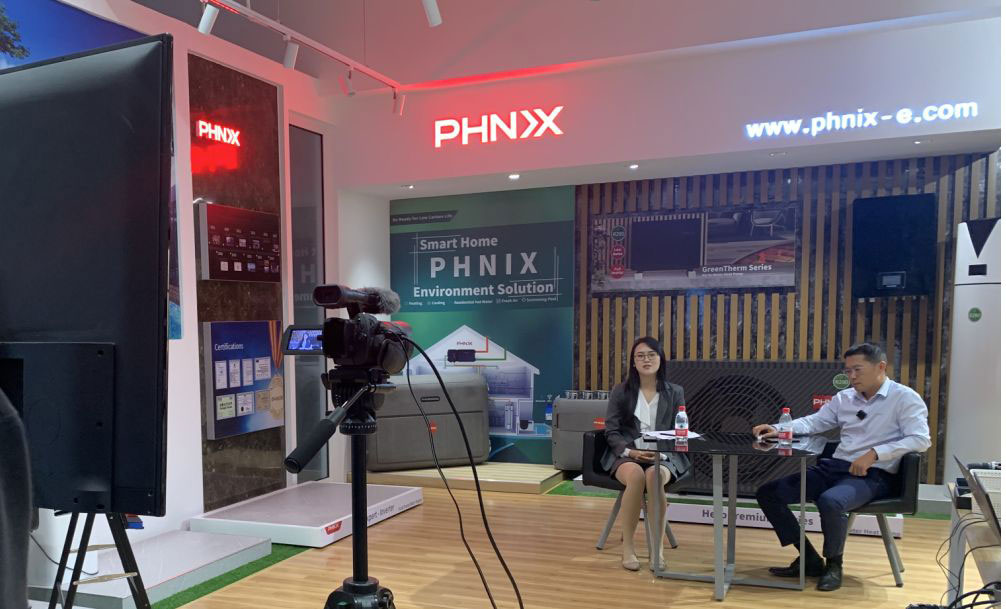 The photo shows the roundtable live streaming on the show.
Another thing worth mentioning is that PHNIX's intelligent remote-control APP, the WarmLink for Air to Water Heat Pump products, and the HiTemp for the All-in-One Heat Pump Water Heater products were also presented at the event and won recognition from the audience.
Besides the online roundtables and the web sessions, PHNIX business managers have arranged several one-on-one meetings to fulfill the needs of some customers for in-depth communication. The ISH digital platform will remain open until the end of April 2021, so visitors can still visit PHNIX's virtual stand and request a meeting with the business manager.
Now the recording of PHNIX's online roundtables and web sessions at ISH Digital is available on PHNIX's YouTube channel: https://youtube.com/playlist?list=PLuBEHAVBBEQBC9eP-0Yi2T2EiXwlZItKi