Matt-finished Sheet Metal Cabinet
On the cabinet, the lively interplay of matt-finished surfaces combined with irregular shaped pattern is reminiscent of a high-performance swimming pool heat pump products.
The special surface comes from the tough iron material which is beneficial for a long service life and strong sun-protective characteristic. As the top heat pump supplier in China, IRON Series pool heat pump is creative with not just special surface but also special designs which should definitely be a perfect decoration of your garden.
It is an ideal pool heating solution for your all year pool fun.

APP Control
Simplify your life with AQUA TEMP.

Via connection by Bluetooth, Wi-Fi and 4G, your can take full control of your swimming pool heat pump from anywhere in your home or office with a single app on your smartphone.
PHNIX smart app is working as your personal butler who can directly fulfill your desire of distance controlling and achieve a truly anywhere, at any time, moving to control your swimming pool heat pump.
So smart to maximize your comfort !PHNIX Smart APP control for your swimming pool with a simple user interface and multiple pump settings allows for customized operation to both meet your pool using schedule and maximize efficiency.

Double-side Airflow Outlet
The unit uses PHNIX own patent double-side airflow cabinet which through years of application in the market is proven to be highly efficient in heat exchange and outstandingly silent during operation.
With unique airflow design ( air input from front frame and discharged from double sides), IRON can be installed closed to wall or even at a corner, while running perfectly with high efficiently.
It dopts PHNIX own patent unique airflow design which allows the air inlet from the back and outlet from the double sides, making it all possible and flexible to fit into narrow installation environment.
And it is also worth noting that thanks to the special airflow design, the unit is highly efficient in heat exchange and silent during running.

Low Noise Running
If you've ever been kept awake at night by the sound of a pool heater working away you will understand the need for finding the best quiet swimming pool heat pump right? Whether it's for a better swimming pool environment or a friendly neighborhood, a quiet swimming pool heat pump is a wonderful thing!!
There is no doubt that a silent pool heat pump can help to create fantastic swimming experiences for users.
i-ExpertLine Iron full inverter swimming pool heat pump uses a fully enclosed cabinet which is specially designed to reduce the noise of the compressor to a minimum so that the running noise can be kept inside and the noise of the whole unit can maintain very low.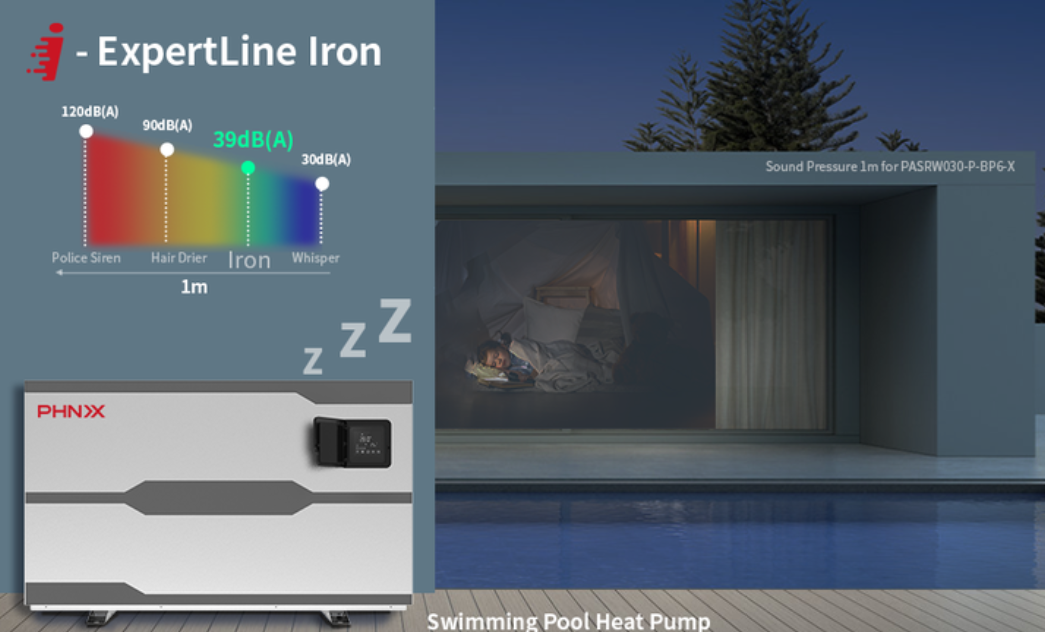 PHNIX Self-developed Driver Board
* Full Model Range
PHNIX swimming pool heat pump has a full model range covering from domestic to commercial applications. In China, an inverter swimming pool heat pump has been successfully applied on commercial occasions.
*Remotely Software Update
If there is any error happens in the software, PHNIX can do the remote service by updating the software online. And when the software has a new version with function upgraded, as long as PHNIX gotyour permission, the software update can be done remotely.
*Self-designed Driver Board Control Logic
To ensure PHNIX's product with the more stable operation and longer service life, PHNIX's swimming pool heat pump product uses its self-design driver board with its unique control logic which enables a more suitable running condition for its compressor.
*Centralized Control
Each PHNIX heat pump uses the power board and current sampling module with the most innovative technology.
*Self-designed Structure
The unique structure of each PHNIX heat pump can perfectly match with the heat pump itself and very convenient for its after-sales service as well.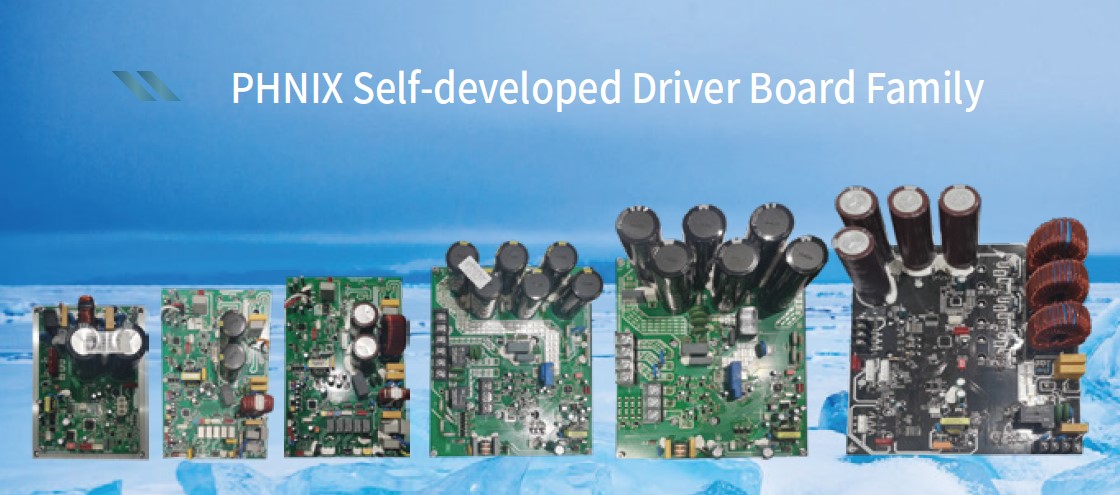 Powered by i-Aquatech Technology

stands for the newest optimized technology specific to PHNIX swimming pool heat pump products.
Powered by

, the heat pump runs at PHNIX unique inverter technology, maintaining the max stability and greatly reducing the energy consumption during running.
Moreover, heat pump with

technology can create an extraordinary quiet swimming environment for users for super low noise it will produce.
Also, heat pump powered by

uses the most leading designs both on internal structure and appearance, enabling the unit to run with high efficiency, installed flexibly and perfectly blending with your swimming environment at the same time.