Super wide operating range
Inverter Polaris EVI Series are equipped with multiple technologies to improve its stability and reliability, which helps easily deal with extreme temperature challenges and ensure the stable operation.
• Mm operating ambient temperature: -36°C
• Max operating ambient temperature: 55°C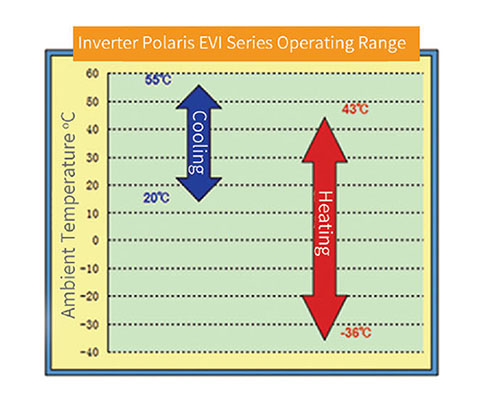 Stepless capacity control in all conditions
Full load energy saving: Inverter Polaris EVI Series achieves 15% 100% stepless capacity control; it outputs on actual load demand, accurately realizes full load energy saving. It's definitely low load, low output, low energy consumption.
No need to start and stop the compressor frequently: Compare to the multi-compressors On/Off system, inverter compressor steplessly adjusts the speed to achieve loading and unloading, instead of frequently starting the compressor.

Intelligent energy management
The intelligent control and automatic load adjustment technology ensures the units run in the high-efficiency section of part load, and reduces the full-load running time of compressors and other mechanical moving parts, which extends the unit's life.
Precise water temperature control
Precise water temperature control
a. Compared with the normal heat pump, due to the technology of wide infinite capacity adjustment, Inverter Polaris EVI Series makes the water temperature control more accurate and the temperature fluctuation smaller. Moreover, the technology also helps to solve the problem of noise and water temperature fluctuation caused by frequent start and stop.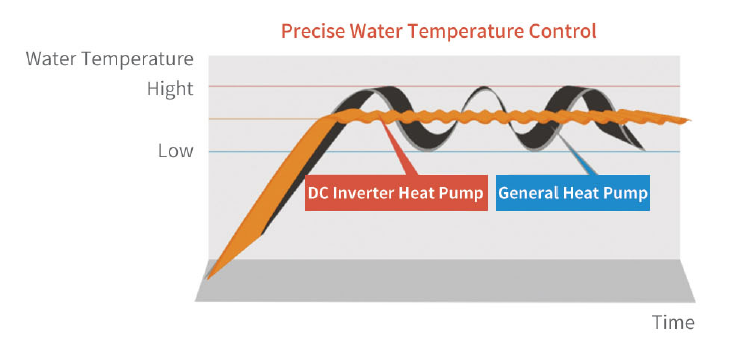 Dual systems with independent air cavity
Dual systems with independent air cavity
a. The unit is designed with dual independent air chamber of two systems. The two systems operate independently according to the requirements of the unit. b. Effectively minimize the impact of unit failure on the whole system through the characteristic of mutual backup between systems.

Active noise reduction
Active noise reduction
The unit adopts a variety of silent technologies and low-noise operating components which can adjust the speed dynamically according to the required current load, environment temperature and other factors , keeping the operating noise to as low as 56dB(A).