Guangzhou, China, Dec. 3rd, 2021—After four days of exhibitions, 2021 PISCINA & WELLNESS BARCELONA has concluded with a perfect ending. As the only Chinese swimming pool heat pump manufacturer to exhibit in the show, PHNIX fully demonstrated its latest swimming pool heat pump products. PHNIX latest R32 full DC inverter swimming pool heat pumps range definitely became the spotlight, attracting tremendous volume of visitors to the stand and leaving them with deep impressions.
PHNIX has been well recognized as a leading swimming pool heat pump manufacturer with an incomparably comprehensive product range. At the exhibition, the i-ExpertLine Flex and Iron are new in its R32 product range, featured with the patent unique airflow design, in which the air can blow in from the back side and blow out from both sides, helping to raise its heat exchange efficiency and boost the COP to a higher level. Besides, with special noise reduction technology, Iron can keep its running noise at just 40 dB(A) at 1 meter.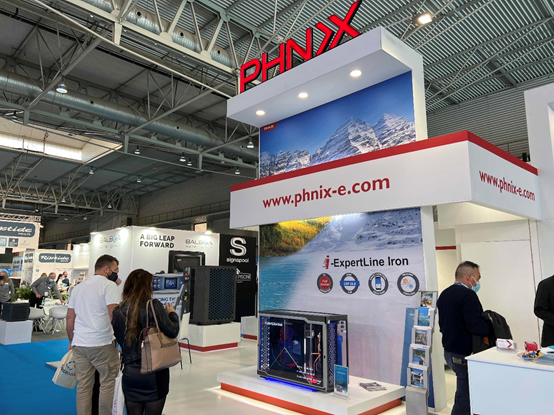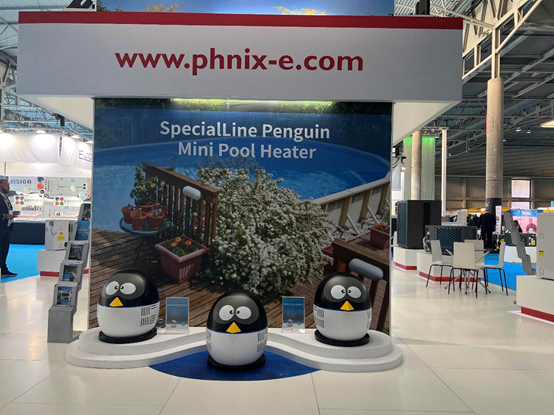 In the exhibition, PHNIX showed:
*i-ExpertLine Wood Swimming pool heat pump maintains high COP of up to 16. In the environment of -15°C-43°C, the unit runs efficiently for either heating and cooling.
*i-ExpertLine Iron Swimming pool heat pump can maintain high COP at 16 while running silently.
*i-ExpertLine Flex Swimming pool heat pump uses PHNIX own patent unique airflow design, with high efficiency in heat exchange and outstandingly silent during operation. And the unit can be installed at less than 100mm against the wall.
*SpecialLine Penguin mini heater is a cute, portable, and smart R32 mini heat pump for swimming pool or spa heating.
Due to the Covid-19, PHNIX sales team from China cannot arrive at the scene. This exhibition was managed by representatives from PHNIX EU service center. "We are grateful for the enthusiastic feedback and trust from our new and existing customers at this exhibition. PHNIX will continue to research and develop in swimming pool heat pump industry and bring more new heat pump technologies and products to the market." Said Howard Zhang, General Manager in charge of PHNIX overseas swimming pool heat pump division.
About PHNIX
As the leading heat pump manufacturer in China, PHNIX is an international enterprise specializing in the R&D and production of heat pumps and energy-saving solutions. Almost 50% of PHNIX products are exported to Europe, North America, and other overseas markets. To learn more about PHNIX and its products, please visit www.phnix-e.com.