GUANGZHOU, China, Nov. 30- Piscina & Wellness Barcelona Expo is one of the most professional and iconic swimming pool exhibitions in Europe which will be held in Barcelona, Spain from 29 Nov. to 2 Dec, 2021. In PHNIX, intensive preparations are underway for the arrival of the show, intending to bring its latest swimming pool heat pumps to a wonderful debut.


PHNIX is the only Chinese swimming pool heat pump manufacturer to exhibit in the show. Covering a large space of 108㎡ with stylish stand design, PHNIX will participate in the show as the bronze partner. Furthermore, PHNIX team has exquisitely prepared various new showcases, intending to present trendy and energy-saving swimming pool heating technologies from China to visitors. This will be a good opportunity for PHNIX to show its innovation strength and share market insight with key players in the industry as a leading swimming pool manufacturer.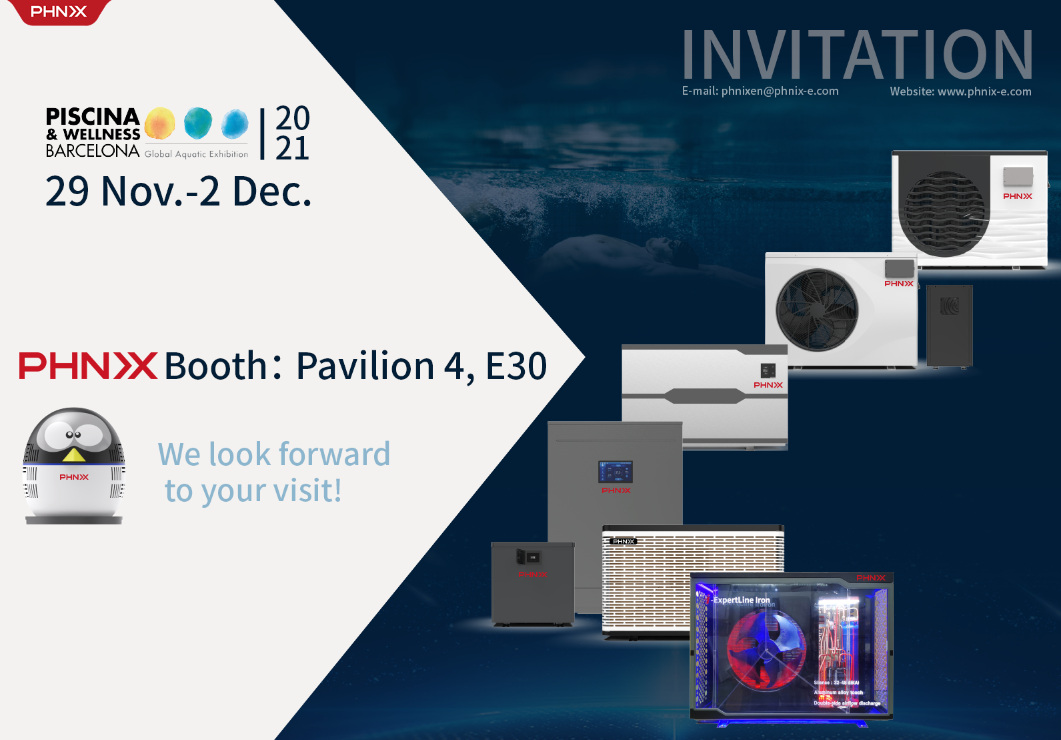 Products To Be Shown In The Show :
●i-ExpertLine Iron Swimming Pool Heat Pump-With a fully enclosed cabinet specially designed to keep the running noise of the compressor, Iron series can achieve low running noise at 36dB(A).
●i-ExpertLine Wood Swimming Pool Heat Pump- With full inverter technology, the COP of Wood series goes up to 16.0. Its strong performance makes it an ideal choice for users with high demand for efficiency in pool heating.
●SpecialLine Penguin Mini Pool Heater - a cute, portable mini heat pump using R32 refrigerant for swimming pool or spa heating.

"Due to the increasingly fierce market competition, PHNIX has made many breakthroughs in core technologies to improve the energy efficiency of pool heat pump over the past 19 years. From the first traditional On/Off heat pump in 2002 to the latest full inverter technology heat pumps today, PHNIX never stop innovating and product updating. We will show our newest swimming pool heat pumps with trendy refrigerant, smart control technology and new model categories in the show.'' Said Howard Zhang, General Manager of PHNIX Overseas Swimming Pool Business Division.

About PHNIX
As the leading heat pump manufacturer in China, PHNIX is an international enterprise specializing in the R&D and production of heat pumps and energy-saving solutions. Almost 50% of PHNIX products are exported to Europe, North America, and other overseas markets. To learn more about PHNIX and its products, please visit www.phnix-e.com.