GUANGZHOU, China, Sep. 23, 2021--- Always being respectful to the industry is a crucial component of a successful enterprise. Especially, for an industry that relies heavily on technology innovation, respect should be at the forefront of everything, which is the key factor for the enterprise to keep in the leading position and push the industry forward in the meanwhile. As an active player in the swimming pool heat pump market, in the decades back, PHNIX has been showing respect to the swimming pool heat pump industry in its own way-keeping innovating on technology with top notch products. This year, PHNIX has already launched many new products to the market, receiving very positive feedback from the market and also leading to a rapid growth in its swimming pool heat pump business. To turn the heat up even more, PHNIX releases another new swimming pool heat pump -i i-ForceLine Mix series which features vertical airflow and operates with full inverter technology.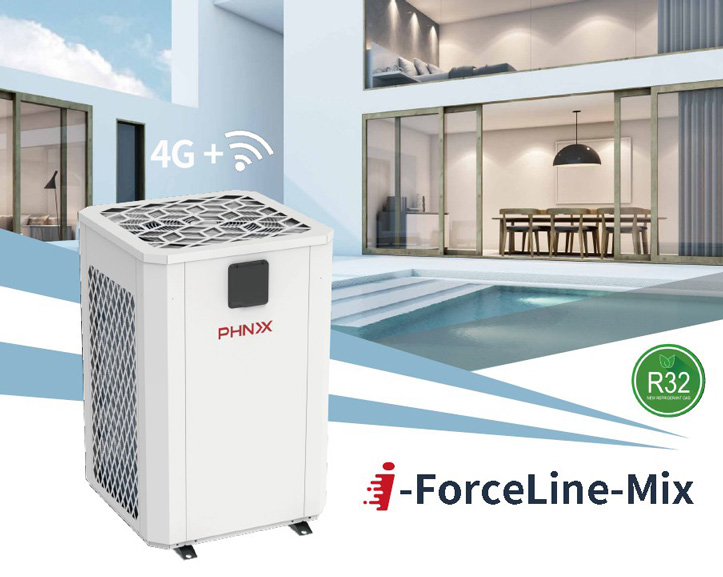 As always being market sensitive, PHNIX noticed that some swimming pool surroundings that have very limited space for heat pump installation and require minimum distance of the blow-off cannot be observed horizontally, a heat pump with vertical airflow can perfectly fit such a market demand. ii-ForceLine Mix series with vertical airflow and elegant appearance is built to match with any swimming pool surroundings as well as provide higher energy savings for users with its inbuilt full inverter technology.
i-ForceLine Mix series swimming pool heat pump is equipped with variable speed compressors which can automatically decrease or increase according to the energy demand and the ambient conditions. Therefore, it does not work on a fixed frequency and higher efficiency can be made at much lower sound pressure. "As vertical inverter swimming pool heat pump has been a very mature category in PHNIX and popular in North America market. We believe this type of swimming pool heat pump will have a very promising prospect and enormous market potential in European areas too. i-ForceLine Mix series is specially developed to target the European market." Said Howard Zhang, sales director in charge of PHNIX swimming pool heat pump business.
More About i-ForceLine Mix:
Mature Full Inverter Technology
The application of an improved compressor and inverter technology synergies is a crucial element for the unit to be a top performer which can raise the energy efficiency and provide homeowners with greater cost-savings. With full inverter technology, the COP of i-ExpertLine Mix is up to 16. Under ambient condition of -7°C to 43°C, the unit can run efficiently for both heating and cooling.
Flexible Installation
With innovative vertical exhaust design, i-ForceLine-Mix can be installed elegantly with any pool in tight space, which can be very flexible and easily blend with the users' pool designs.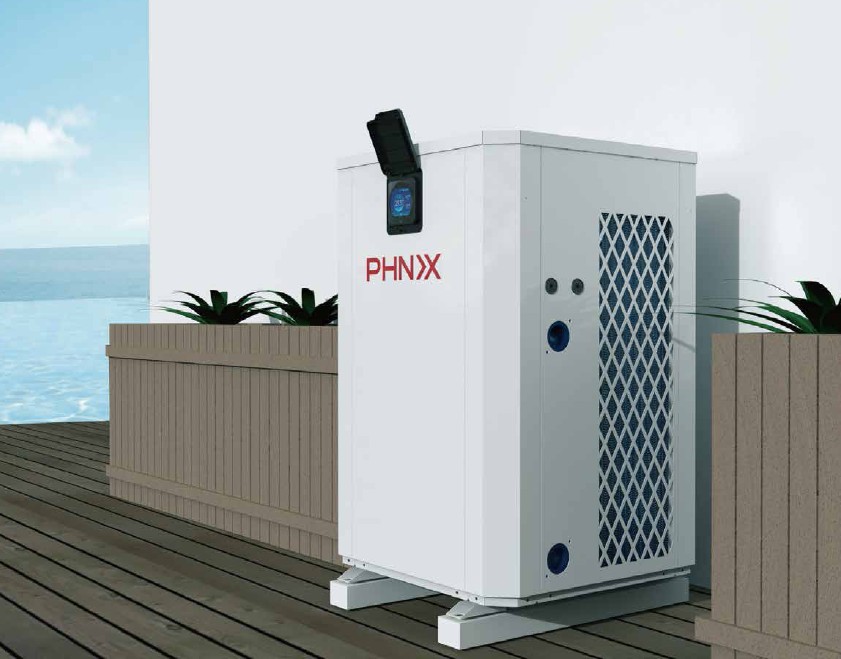 Colorful Touch Screen Display
The controller of the PHNIX i-Force Line-Mix inverter pool heat pump is equipped with a 3.5 inch color touch display, which allows real-time temperature curve for extending a clear overview of the unit's running condition. Furthermore, the clear interface is very user friendly and eye-catching in design.

Smart App Remote Control
With a Wi-Fi or 4G connection you can take full control of your swimming pool heat pump on your smartphone via an app. The app can be found in the App Store and Google Play.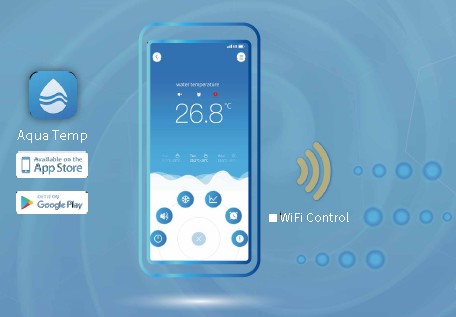 Soft Starting
PHNIX i-ForceLine-Mix achieves a completely soft switch over from 0A to 28A (max) intensity during the start-up phase, whereas a normal ON/OFF heat pump starts with more than three times higher current intensity, which will have a strong impact on the household electricity system.
Low Temperature Operation
Working with high efficiency and stability, PHNIX i-ForceLine-Mix supports large operation ambient range from -7°C to 43°C, which enables the users to enjoy four-season swimming fun without disturbed by climate change.
Screw-free ABS Material/Sheet Metal Cabinet
To adapt to different environment, the unit is available in two different types of material: ABS and sheet metal. With the highlights of strong corrosion-resistant, the ABS cabinet is an ideal option for seaside citizens and area with moist, rainy climate. While the sheet metal material cabinet boasts outstanding and complicated design which makes it very attractive in appearance.