GUANGZHOU, China, Oct. 22, 2021-PHNIX will attend two big industry exhibitions in the coming November which are C&R Exhibition in Madrid from November 16th to 19th and Piscina & Wellness Barcelona from November 29th to December 2nd. Due to COVID-19 pandemic, PHNNIX sales team from China headquarter will not be able to arrive at the scene, instead, PHNIX's representatives from PHNIX Europe service center will attend the fair for offering on site services and product showcasing. Moreover, during the exhibition period, PHNIX sales team in China headquarter will interact with visitors in a virtual way through holding live sessions for new products launching and new heat pump technology introduction online. As a global leading heat pump manufacturer, attending these two industry-renown trade fairs will not only help demonstrate PHNIX enterprise strength,but also showing its constant struggle of bringing innovations to the market and taking the industry forward.
Focusing on the trend of energy saving and environmental protection, PHNIX will display its latest heat pump technologies and heat pumps product on the shows.
For example, in C&R Madrid, PHNIX will showcase:
l R290 Air to Water Heat Pump - Greentherm series heat pump using the most trendy eco-friendly refrigerant;
l All-in-one Heat Pump Water Heater airExpert - Titan with big capacity up to 11kW;
l Commercial Hot Water Heat Pump - PolarisPro boasting high COP with super wide operation temperature range from -35-55℃.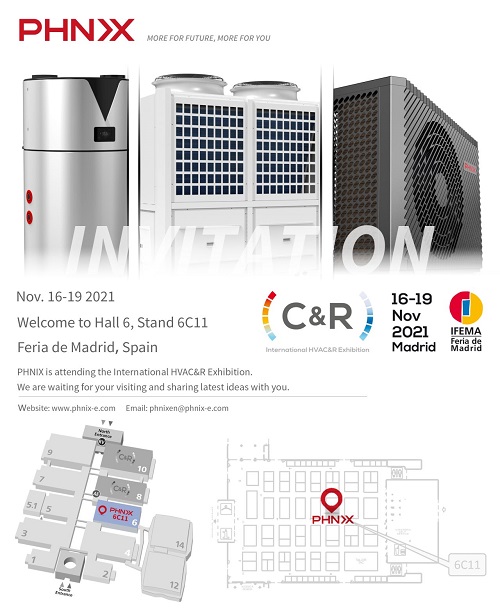 In Piscine& Wellness Barcelona show, PHNIX will showcase:
l i-Expertline Iron series which is impressive in noise control;
l i-Expertline Wood series with horizontal airflow design which is a high-end product targeting Europe market;
l SpecialLine Penguin series designed with a cute and attractive appearance.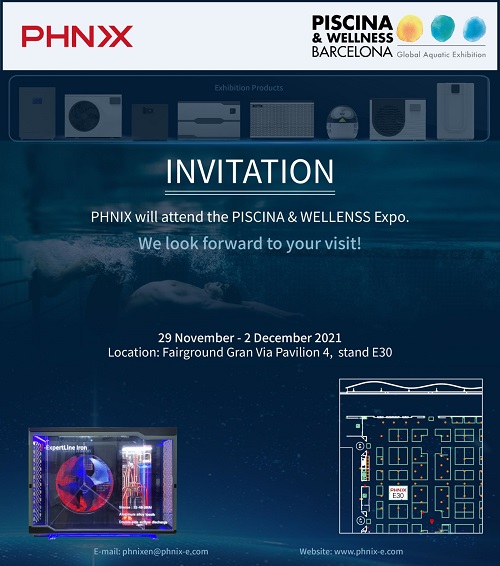 Moreover, in both of the shows, PHNIX will use transparent cabinet for product display which is an intuitive and lively way in product demonstration, enabling the visitors to peek into the internal structure of the unit.
"We have being carefully prepared for these two important trade shows and wish to update the market with the most trendy heat pump innovations and first-hand new product from PHNIX. Even though PHNIX sales team cannot show up on the site, through these online and offline combined way, we are sure that the show will be very rewarding for visitors. The exhibitions will provide a valuable opportunity for us to share insights and new ideas about heat pump industry, we are very excited and looking forward to meeting our visitors on the shows" said Peter Wang, PHNIX Deputy General Manager in charge of PHNIX overseas business.
About PHNIX
As the leading heat pump manufacturer in China, PHNIX is an international enterprise specializing in the R&D and production of heat pumps and energy-saving solutions. Over 50% of PHNIX products are exported to Europe, North America, and other overseas markets. To learn more about PHNIX and its products, please visit www.phnix-e.com.