Guangzhou, China, May. 20th -As the top overseas exporter of swimming pool heat pumps, PHNIX always has been showing respect to the swimming pool industry, promoting originality, inspiring creativity, and encouraging innovation. Beforehand, PHNIX launched several above-ground pool heating products, such as Tab and Penguin Mini pool heaters. To bring a more financially viable, competitive pool heating solution for above-ground pool users and broaden the product range of PHNIX pool heat pump to meet a various market demands, PHNIX launches to the market a quite unique and novel-looking swimming pool heat pump- SuperMini series, offering a new option for PHNIX cooperative partners to help grow the market of an above-ground pool heat pump.

With a Unique and Novel-looking appearance design, SuperMini becomes a star product and attracts great attention quickly. On the one hand, Super Mini can achieve complex shapes and details with good dimensional accuracy through precise injection mold. With its exquisite craftsmanship and specialized design, the appearance of SuperMini is stylish and attractive and has a curve pretty and dynamic feeling.

On the other hand, What PHNIX most value is the unit's stylish appearance and availability in many colors. PHNIX offers 7 colors of SuperMini swimming pool heat pumps for users: black, white, pink, yellow, grass green, grey and dark purple. With optional colors, the product will be more recognizable and competitive in the market.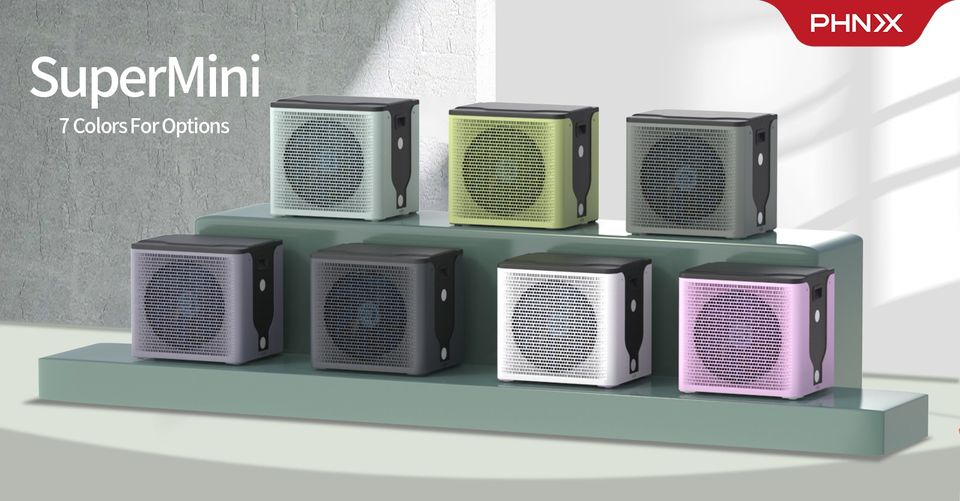 About SuperMini Pool Heat Pump:
Compact inner structure
The design of the complete machine of SuperMini is exquisite and the inner structure is compact.

Multiple Protection
SuperMini has built-in multiple protection configurations: leakage protection, water flow switch, pressure switch and temperature sensor to ensure that Super Mini runs more stable and prolongs the life of the machine.


Intelligent Defrosting
SuperMini can intelligently determine whether to go into defrosting mode according to the operating conditions, ambient temperature and frost thickness. As a result, the unit operates with high heating capacity and energy efficiency.
Running at Low Temperature
Compared with normal above-ground swimming pool heat pumps, Super Mini can maintain more stable and efficient performance in ambient temperatures from -7℃ to 43℃, providing a wider range of applications for users.
"PHNIX continuously invests in world-class product development and ensures that the production meets the highest expectations in terms of quality and productivity. SuperMini is built with our best craftmanship which tends to be the ideal partner for the above-ground pool heating with respect to the needs of the family villa or home. This new arrival in our pool heaters range gives our customer a different pool heating solution." says Howard Zhang, General Manager in charge of PHNIX swimming pool heat pump division.


About PHNIX
As the leading heat pump manufacturer in China, PHNIX is an international enterprise specializing in the R&D and production of heat pumps and energy-saving solutions. Almost 60% of PHNIX products are exported to Europe, North America, and other overseas markets. To learn more about PHNIX and its products, please visit www.phnix-e.com.