Guangzhou, China, July 4th - The four-day Mostra Convegno Expocomfort Expo show was a complete success and undoubtedly one of the most popular shows in the HVAC industry in 2022.
As a leading heat pump manufacturer in China, PHNIX again presented very outstandingly its star products, i.e. the R290 heat pump family on the show. Moreover, dazzling and full of eco-friendly elements, PHNIX's booth used a brand-new display form which perfectly integrated with its high-tech heat pump showcases, giving people a sense of modern technology.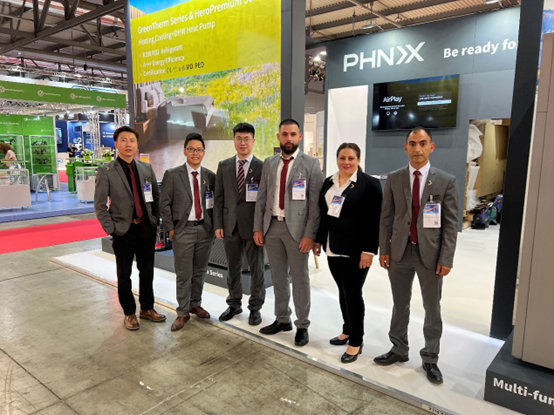 With great strength, PHNIX has an incomparably comprehensive product range. At the exhibition, PHNIX demonstrated the most cutting-edge heat pump technologies and products, especially the full range of R290 heat pumps for three different applications. Featured with the eco-friendly refrigerant, the R290 heat pumps can achieve low-carbon emission and high efficiency, which stay in the step with the current carbon neutral trend and become the highlights on PHNIX's stand.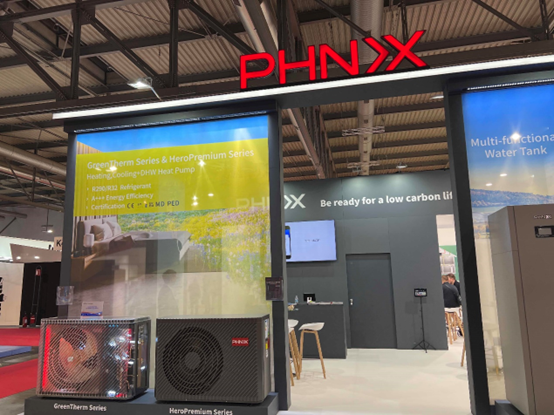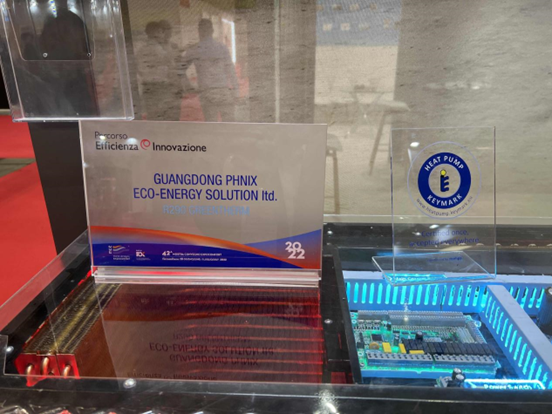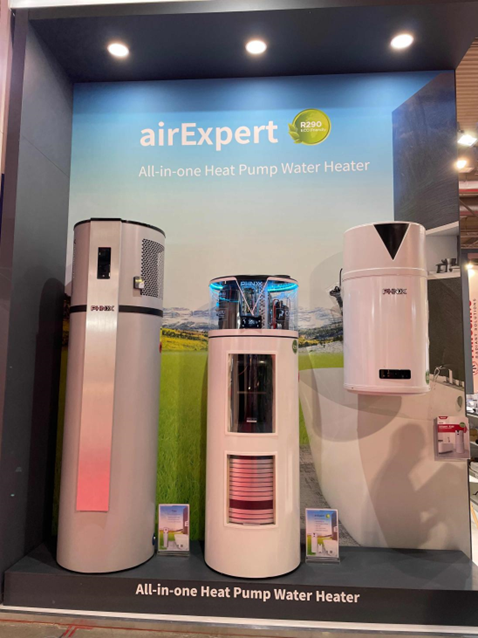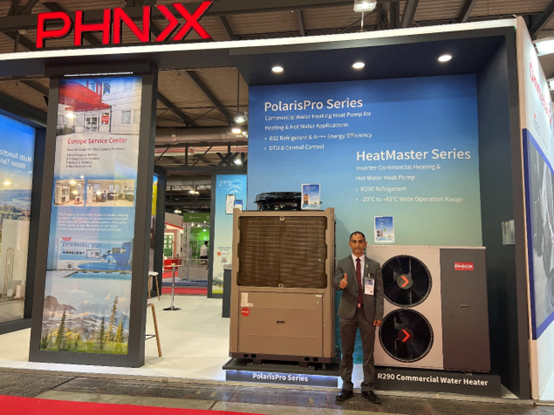 Let's check the highlights of R290 Heat Pump Family:
R290 Air to Water Heat Pump-GreenTherm series
· High Efficiency A+++ Energy Level
· Full DC Inverter Technology
· Noise Reduction Technology
R290 All-in-one Heat Pump Water Heater

· High COP
· Three Models for Option( 100L&200L&300L)DTU/centralized control
· Stable Silent Operation
R290 Commercial Hot Water Heat Pump-HeatMaster Series
· -20℃ to 43℃ Wide Operation Range
· Full DC Inverter
· Max. Outlet Water Temp. Up to 70 ℃
Different from the traditional display form, the R290 GreenTherm series for house heating, cooling+DHW and R290 airExpert all-in-one heat pump water heater on the show were transparent display prototypes, so that visitors can see the components and working principles inside at a glance. Under the blue light, the prototype exudes a bright atmosphere, full of fashion and technology.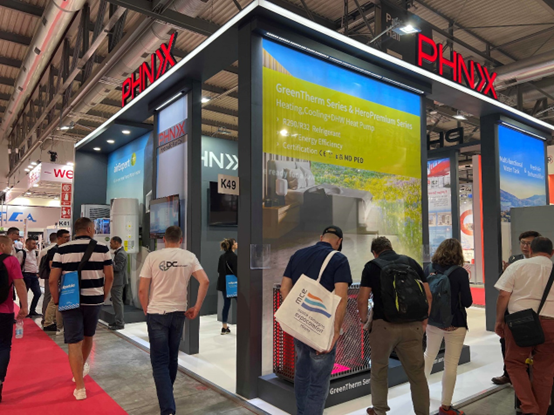 "Over the past four days, we have been overwhelmed by the enthusiasm of the visitors and shared so much information and latest industry news with them, which is quite a joy. Also, we had deep discussion for future cooperation with a great number of cooperative partners and will make further cooperation scheme for R290 heat pumps, which can definitely pave the way for the popularity of R290 heat pump products and development of our cooperative partner in the global market." Said Peter Wang, PHNIX Deputy General Manager in charge of PHNIX overseas business.
About PHNIX
As the leading heat pump manufacturer in China, PHNIX is an international enterprise specializing in the R&D and production of heat pumps and energy-saving solutions. Almost 50% of PHNIX products are exported to Europe, North America, and other overseas markets. To learn more about PHNIX and its products, please visit www.phnix-e.com.