Guangzhou, China, Mar. 25, 2022-PHNIX R290 GreenTherm Series attains CE and UKCA certification. As one of the largest Heat Pump manufactures in China, PHNIX is committed to being a reliable cooperative partner by supplying advanced heat pump products with industry leading quality standards. Therefore, PHNIX never stop upgrading its products, meanwhile, making them certified with different market standards. In 2021, PHNIX R32 HeroPremuim series received the Keymark and MCS certification. This time,PHNIX R290 GreenTherm Series obtained CE and UKCA certification back to back in March this year. The obtaining of the certification is undoubtedly a powerful force for PHNIX's cooperative partners to grasp more market chances in European areas.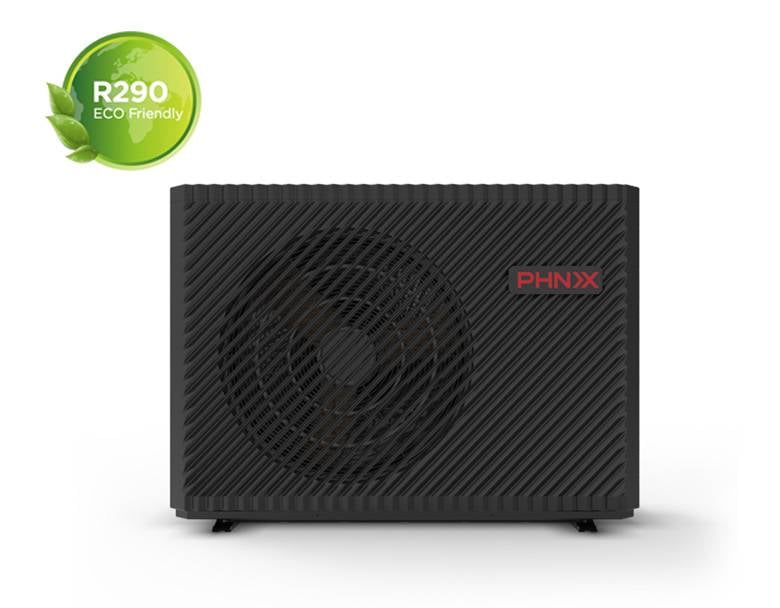 Both certifications are of great importance for R290 GreenTherm Series in many aspects. CE certification is a safety conformity mark rather than a quality conformity mark and it is mandatory in the EU market. So with CE marking, R290 GreenTherm Series is safe and can circulate freely in the EU market. On the other hand, UKCA marking is particularly favorable for PHNIX UK cooperative partners which is regarded as an open sesame for R290 GreenTherm Series to enter the UK market. Therefore, with UKCA certification, PHNIX R290 GreenTherm Series can be freely distributed in the UK market, which it definitely a good news for PHNIX UK partners as it can help to enhance the competitiveness of R290 GreenTherm Series heat pump in the local market and can make it easier to be accepted by UK customers.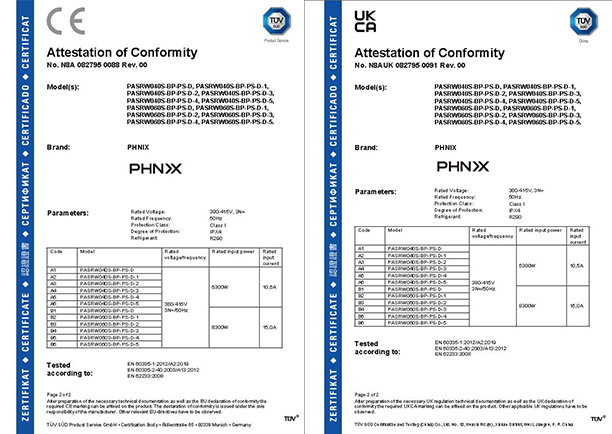 According to Jab Fan, Sales Director in charge of PHNIX house heating/cooling+ DHW heat pump division. "CE certification is a necessary safety certification for products to enter the European market and it is also necessary to verify that the product meets the safety inspection for the European market. As the UK withdraws from the EU, the UK market requires products to be UKCA certified, so attaining these two certifications is a prerequisite for R290 GreenTherm Series heat pumps to enter the European market." Says Jab, "Obtaining these two certifications can strongly prove the safety and high quality of our products, as well as gaining more recognition from customers."
About R290 GreenTherm Series:
R290 Refrigerant
R290 refrigerant is recognized as the most promising refrigerant in the industry with many advantages such as low carbon and high efficiency, contributing to the goal of global carbon neutrality. GreenTherm series uses eco-friendly R290 refrigerant with GWP as low as 3, which can contribute greatly to cutting carbon emission for our planet.
High Efficiency A+++ Energy Level
R290 GreenTherm Series air-to-water heat pump has been specifically developed using cutting-edge heat pump technology and modern design to meet the stringent requirements for efficiency, stability and quietness. With a top energy rating of A+++, the unit is energy efficient and can significantly reduce the user's energy bills and can even operate stably at ambient temperatures of -25°C.
Smart Touch Display
PHNIX Smart Display is adopted in R290 GreenTherm Series. It has a high-end controller with 5-inch colorful touch screen, which is one of the highlights of this trendy heat pump product. With temperature and power consumption curve, users can always be clear of the energy consumption at a glance.
PHNIX Smart Control Family
R290 GreenTherm Series can be controlled by WarmLink app to make controlling the heat pump smarter. With functions such as the timer ON/OFF, mute running, target temperature setting and fault display, no matter when and where you are, you can control your heat pump with simple finger swipes on your smart phone.
PHNIX R290 GreenTherm Series attains CE and UKCA certification, reflecting the safety and high quality of PHNIX products and providing fundamental conditions for it to enter the European market. PHNIX will keep developing new environment-friendly refrigerants heat pump products that are low-carbon, energy-saving and efficient.
As the leading heat pump manufacturer in China, PHNIX is an international enterprise specializing in the R&D and production of heat pumps and energy-saving solutions. Almost 60% of PHNIX products are exported to Europe, North America, and other overseas markets. To learn more about PHNIX and its products, please visit www.phnix-e.com.