Guangzhou, China, Apr. 13, 2022-PHNIX's airExpert R290 all-in-one heat pump water heater attains ErP certification, which proves that the water heater is in line with the required standards of ErP certification and makes it a step further in the progress of attaining CE certification. Meanwhile, getting this certification is also a good news for our European partners as it will give the new green gas water heater itself the priority to achieve the threshold to enter the European market and circulate smoothly within European areas.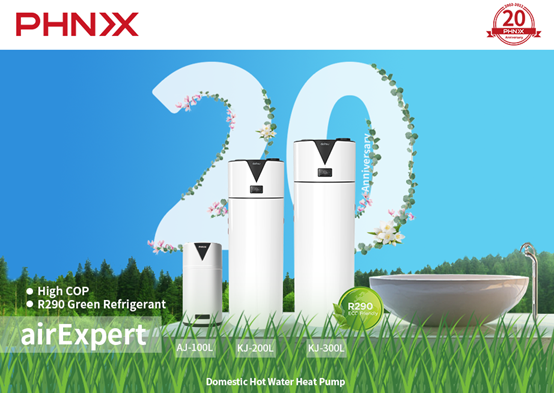 ErP certification is based on the certification requirements of the ErP directive under the CE mark of the EU, and attaining the ErP directive is a necessity for attaining the CE mark. It plays a significant role in environmental protection and energy supply security. Therefore, before the products involved in the implementation measures are exported to Europe, the requirements of ErP directive must be taken into account.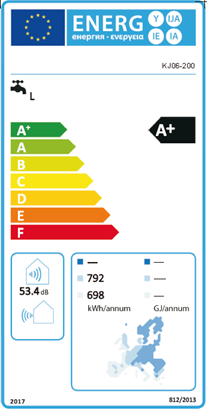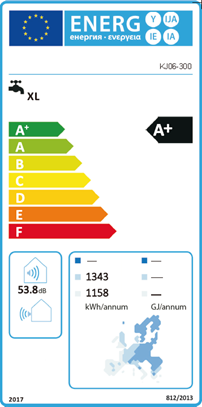 However, the process of obtaining ErP certification is extremely complex and rigorous. As a CE mark instruction, the ErP instruction is now required to be executed together with other requirements such as LVD instruction, EMC instruction and RoHS instruction. To make the R290 heat pump water heater qualified and fully prepared for the certification, PHNIX has done a lot of tests on the product, such as energy efficiency tests and noise tests, so as to ensure the optimal quality, as well as the professionalism and strict quality control of PHNIX.
According to Edward Zheng, director in charge of PHNIX DHW heat pump division, "At present, against the background of the goal of European carbon neutrality, Europe will gradually phase out products with high GWP value, which has a great impact on reducing the greenhouse effect. As a farsighted enterprise, PHNIX follows the policy and develops a variety of R290 products with GWP of only 3, which makes the products highly competitive in European market. Furthermore, ErP and CE are the compulsory access certification of European market, providing the most fundamental guarantee for the circulation of our products in Europe."
About R290 All-in-one Hot Water Heater
1. R290 refrigerant
R290 refrigerant is recognized as the most promising refrigerant in the industry because of its character of low carbon and high efficiency, and contributes to the global goal of carbon neutrality. And its GWP can be as low as 3, which is conducive to reducing global carbon emissions.
2. High COP
Under the condition of (EN16147)7/6℃, airExpert R290 all-in-one heat pump water heater can achieve a high COP of up to 3.0, which can significantly help to reduce energy consumption and save the energy bills for users in the long run. The excellent energy-saving effect makes the water heater stand out from the normal water heaters in the market.
3. Three Different Sizes of Water Tank
To ensure that users with different demand for hot water supply can enjoy low-carbon lifestyles, PHNIX has prepared three water tank models (100L&200L&300L) of R290 heat pump water heater to meet their continuous hot water demand.
PHNIX is committed to product innovation and upgrading, providing advanced heat pumps with industry-leading quality standards to the world. To this end, PHNIX never stop making its heat pump product certified with different standards for the global customers. This time, PHNIX airExpert R290 all-in-one heat pump water heater is certified with ErP certificatoin, which will lay a foundation for this product to continue to obtain CE certification in the near future, and will be conducive to its free circulation in the European market. Also, it is a proof that PHNIX products are energy-saving and environment-friendly and have made great contributions to environmental protection for the green planet.
About PHNIX
As the leading heat pump manufacturer in China, PHNIX is an international enterprise specializing in the R&D and production of heat pumps and energy-saving solutions. Almost 60% of PHNIX products are exported to Europe, North America, and other overseas markets. To learn more about PHNIX and its products, please visit www.phnix-e.com.