Guangzhou, China, May 16th- Swimming pool heat pump has always been a main product of PHNIX. As one of the leaders in heat pump technology, PHNIX perseveres and continues to conduct R&D on pool heat pumps. This innovative R290 i-GreenLine Ultra Pool Heat Pump uses R290 refrigerant for the first time, a refrigerant that is known to be environmentally friendly and has been very trendy in heat pump applications for house heating and water heating. To be more specific, PHNIX is one of the first manufacturers in the heat pump industry to apply R290 refrigerant to swimming pool heat pumps. Staying true to its original aspiration, PHNIX has always pursued to contribute to slowing global warming and promoting carbon neutrality. Using this eco-friendly R290 refrigerant on swimming pool heat pump, PHNIX hopes to lead the development of the industry and promote the entire industry to join the team of environmental protection and energy saving.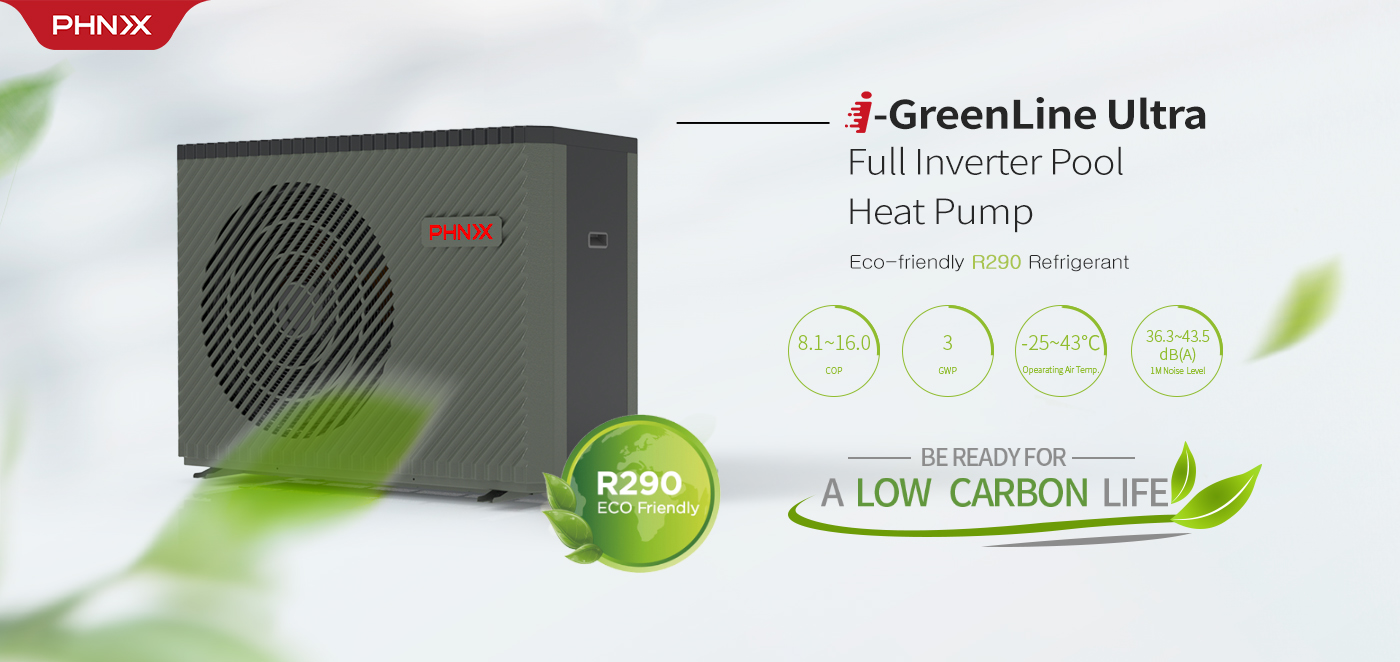 Why R290 Refrigerant?
In light of the global goal of carbon neutrality, the earth is phasing out products with a high GWP value. With advantages including low-carbon emission and high efficiency, R290 refrigerant is a refrigerant that possesses great potential for development and low GWP. The R290 refrigerant applied to the swimming pool heat pump is not only environmentally friendly, but also maintains the good working performance of the swimming pool heat pump.
Can it run all year round?
YES! The advanced technology of R290 i-GreenLine Ultra pool heat pump ensures optimal performance across wide range of ambient temperatures from -25℃ to 43℃ with ACOP up to 7.4 and energy efficiency up to A++, that is to say it can work perfectly in severe cold weather and perform excellently. The unit can help users enjoy the fun of water in four seasons. Generally speaking, this R290 i-GreenLine Ultra swimming pool heat pump reaches a balance between summer and winter gracefully.
Highlights of R290 i-GreenLine Ultra Pool Heat Pump:
· Boost Heating Capacity (Ideal For Spring Season)
Heating capacity recession has long been a major problem especially for extremely cold climate. Based on it, PHNIX has made many breakthroughs in core technologies. By using R290 refrigerant plus PHNIX unique inverter technology, R290 i-GreenLine Ultra pool heat pump can achieve no heating capacity decline under temperature range from 15 ℃ to 27 ℃, which means that it costs less energies, achieves higher COP and saves more electricity bills in long-term use.
· PV Ready For Free Cost Running( Specially Made For Summer Season Running)
During the pleasant summer days with strong sunshine, with the PV ready function of R290 i-GreenLine Ultra pool heat pump, users can heat up the hot pool water in their pool with 100% free cost created by the solar power. This function can be realized simply with one button on the clear interface of its colorful touch smart display.
· Ultimately Silent
The noise level of R290 i-GreenLine Ultra pool heat pump can maintain very low, providing a peaceful swimming experience for users. The sound pressure is kept to as low as 36.3dB(A) at 1 meter distance ( Max. At 43.5 dB(A) ).
According to the Howard Zhang, the director of PHNIX Swimming Pool Heat Pump division, "As a leader in the heat pump industry, PHNIX has been committed to practicing the concept of low carbon and environmental protection. On the road of refrigerant renewal and iteration, we have also been constantly exploring and innovating. After 2 years of research and development and 1 year of market verification, PHNIX finally found the next generation of environmentally friendly and low-carbon new refrigerant replacement solutions: R290 i-GreenLine Ultra Pool Heat Pump."
About PHNIX
As the leading heat pump manufacturer in China, PHNIX is an international enterprise specializing in the R&D and production of heat pumps and energy-saving solutions. Almost 60% of PHNIX products are exported to Europe, North America, and other overseas markets. To learn more about PHNIX and its products, please visit www.phnix-e.com.