Guangzhou, China, Oct. 10th –Having been running successfully and occupied the leading position in China's heat pump manufacturing industry for over 20 year, PHNIX, bringing with its latest R290 heat pump technology, will make its appearance in the upcoming Chillventa show in Germany from October 11th to 13th. PHNIX will show up on the show in an eye-catching spot, thus pursuing its mission to promote China's most advanced and innovative heat pump technology.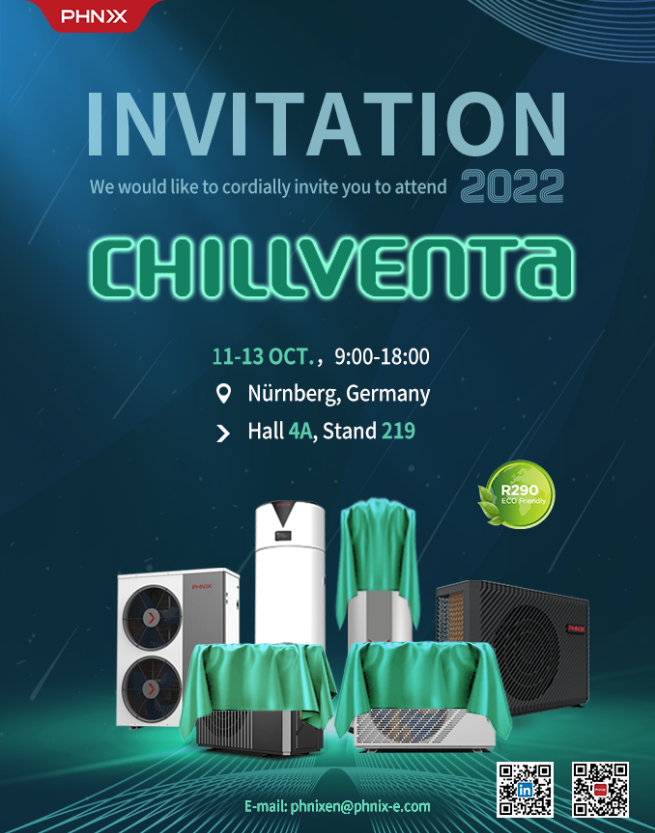 As one of the biggest exhibitors from China, PHNIX targets visitors from Europe and nearby areas to come to the show and intend to share insights for the most trendy heat pump products and technology. "PHNIX keeps making effort to develop and bring the best heat pumps and technology to our clients and the market. Therefore, every time we attend this kind of international fairs, we share the most suitable heat pump product that the market needs and by attending this international expo, we will take the chance to meet our client in a professional way and listen to them carefully," said Peter Wang, the overseas sales director and deputy general manager of PHNIX.
"As a representative of heat pump manufacturer in China, we are obliged to participate and perform exceptionally in this trade show, which as well is an essential part of our marketing strategy. European market has vast potential and vitality, we firmly believe that we are capable of continuing to obtain more recognition from local cooperative partners by our advanced and high quality products with young and vigorous feature." said Peter Wang.
Jab Fan, Sales Director in charge of PHNIX house heating/cooling+ DHW heat pump division, added "We pride ourselves to be an innovative heat pump manufacturer, so this time we will bring here our latest invention- R290 GreenTherm series which is a combination of high efficiency, low noise and environmental protection that we believe should be most suitable for the European market. Also, we have new design for R32 heat pump products that will be another highlights on the show. We are convinced that the advent of the R290 technologies are bound to help our cooperative partners to explore deeper in the market and will make the products more appealing to local customers."
Showcases on 2022 Chillventa:
· House heating/cooling+DHW Heat Pump
-R290 Air to Water Heat Pump-GreenTherm series
-R32 Air to Water Heat Pump-HeroPremium series with transparent cabinet design
-Multi-functional Water Tank
-Water Fan Coil
-A Newest R32 Heat Pump
· All-in-one Heat Pump Water Heater
-R290 airExpert 300L
-R290 airExpert 100L
-airSplit
· Commercial Heat Pump Water Heating Solution
-R290 HeatMaster Series
-PolariesPro Series